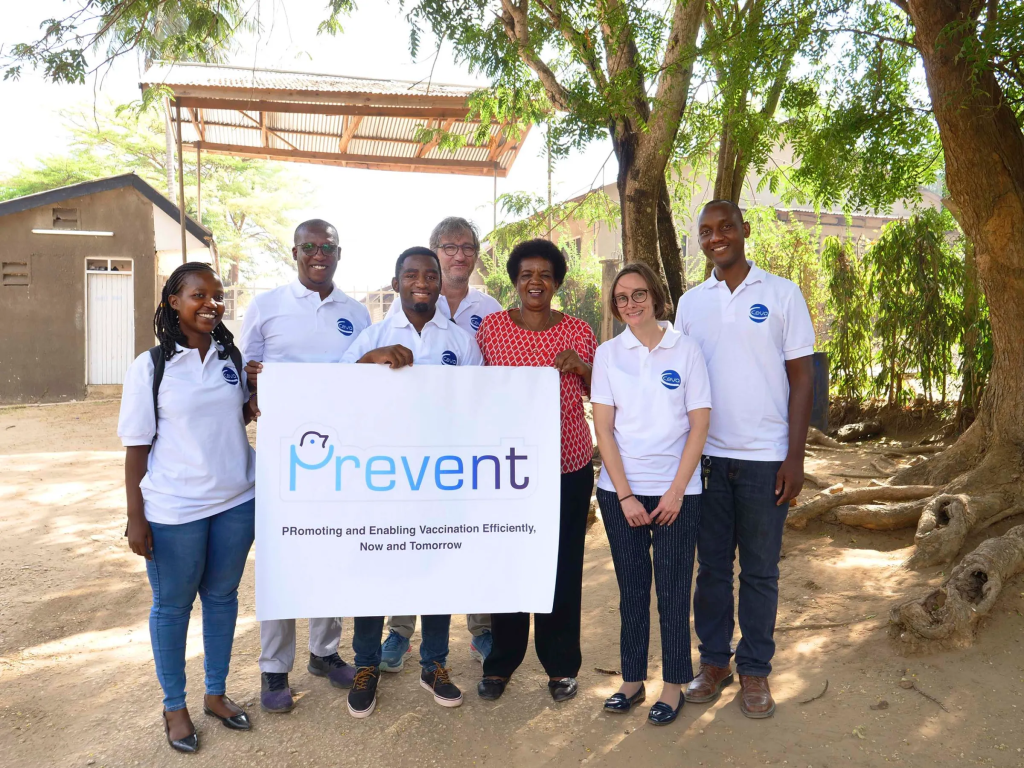 2 years ago, the innovative PREVENT program was launched in collaboration between Ceva and GALVmed to address growing food needs by improving the productivity of small-scale commercial poultry farms in Africa through improved access to hatchery vaccinated day-old chicks.
Although the main goal of the project is to accelerate hatchery vaccination uptake in Africa, we are also committed to:
Demonstrate why it is so important to support all sustainable forms of agriculture, large and small scale, to produce enough safe and affordable food.
Promote gender equality to create a pragmatic understanding of gender dynamics in the poultry sector in Africa, with the goal of positively impacting female chicken farmers through the hatchery intervention.

In 2 years, some major successes were achieved:
Launch of activities in 8 countries
2️4 hatcheries producing vaccinated chicks
3️7,000,000 day-old chicks vaccinated at the hatchery, benefiting around 6.000 farmers
100 field technicians trained in 4️ countries (Tanzania, Nigeria, Côte d'Ivoire, Ethiopia) to provide ongoing support to small scale farmers purchasing vaccinated chicks from PREVENT hatcheries
1️,800 farm visits and 1️00 farmer meetings undertaken by PREVENT field technicians
Leaded with Galvmed, The PREVENT program makes innovation a core value of the project to positively impact the work of every poultry farmer in Africa.
This project is also committed to promote the work and the training of young field technicians. They share their experiences about the PREVENT program!
I would like to thank you from the bottom of my heart for the support you have given us in the form of knowledge through the training I have attended. The training has helped me to deepen my knowledge about poultry farming. From now on, I can help small farmers and teach them the basics of poultry husbandry. I also appreciate this new poultry style of vDoc from the hatchery because it has a positive impact on farmers, who previously had so many problems with vaccination in agriculture, but now they can focus on management issues and biosecurity measures that I teach them. In my opinion, the awareness of vDoC is growing day by day and I hope for more trainings to increase the knowledge.

Athuman Said Mdaki – Field Technician, Tanzania
The education I received is useful and helpful to me. It has helped me improve my career as a field technician in the poultry industry and in livestock production as a whole. For example, before the training, I didn't know how to take samples with the FTA card, but after attending several trainings, I can take samples without any problems. Therefore, I can help my clients identify the pathogens of various infections on the farm. During the training, I have learned how to organize farmer meetings and what role I can play as FT. I am also familiar with various CEVA products such as vitamins and disinfectants that I can recommend to my farmers to solve various challenges such as management and biosecurity, resulting in good performance in terms of weight, mortality and FCR. I have also learned the benefits of vDoc and can recommend my farmers to improve performance by purchasing vDoc. Finally, I would like to thank Ceva and Galvmed for the good training and encourage other field technicians and farmers to use Ceva vaccines for good performance.

Girbat Thobias – Field Technician, Tanzania
                   
       
PREVENT training has increased my skills and knowledge of poultry management. It has allowed me to improve the efficiency of my work. I now perform my duties as a field technician as an expert.   Farmers have also benefited from my training by knowing the advantages of vDoC over normal DoC. I also train the farmers in good management and biosecurity so that they benefit from income through fewer deaths.

Grace Magembe – Field Technician, Tanzania
Follow us on LinkedIn, Facebook and Twitter to learn more about it!