Ceva's QTest validated as an effective and practical way to diagnose Q fever in dairy herds worldwide.
A paper published recently online[1] by the Journal of Dairy Science, the world's leading peer-reviewed dairy research journal, presents evidence from validation trials that show Ceva's QTest is an effective and practical approach to the diagnosis of Q fever in dairy herds.
Drops of milk taken from dairy farm bulk tanks are simply placed on the QTest cards and allowed to dry. This renders the potentially dangerous pathogens in the milk harmless and the samples stable so that the cards can be safely sent through the post, even from overseas, to an expert diagnostic lab. This is the first time this technology has been used in this way and represents a real breakthrough for veterinarians and dairy farmers in the diagnosis of this serious and increasingly prevalent disease.
Q fever, also known as coxiellosis, is a highly contagious bacterial disease that primarily affects cattle, sheep and goats. It is a zoonosis, meaning people can become infected from these animals when they are exposed to airborne dust that has been contaminated by infected animal faeces, urine or birth products such as placentas and aborted foetuses.
Although most human cases are mild, it can cause serious clinical signs, including abortion. Therefore, Q fever represents a particular risk to pregnant women.
On the farm, as well as representing a potentially serious threat to the health of front-line farm and veterinary personnel, and other people living in the vicinity, it is an important cause of livestock abortions and other reproductive problems, and can lead to major economic losses. In the case of goats, devastating 'abortion storms' can affect up to 90% of pregnant animals.
Recent surveys suggest that Coxiella burnetii, the pathogen responsible for Q fever, is present on at least half of European dairy farms. However, since the disease is mostly insidious and the conventional means of diagnosis can be quite challenging, only a small percentage of farmers know that Q fever is present in their farms.
To address this problem and build awareness of this dangerous but preventable disease, Ceva's ruminant team have developed a new diagnostic tool for Q fever – the QTest.
The QTest is based on the use of an established technology, FTA cards, which is already used for the diagnosis of a number of diseases, including mastitis in dairy cattle. 
QTest cards are made from specially treated paper designed to collect and preserve milk samples for subsequent analysis of Coxiella burnetii. Chemicals contained in the cards inactivate any bacteria or viruses present in the bulk tank milk samples but preserve their DNA and RNA for subsequent detection by the highly sensitive and specific PCR method. Because the cards are stable and harmless, they can be legally and safely sent through the post to an expert diagnostic lab. This approach links dairy farms around the world to an expert laboratory thereby making high-quality Q fever diagnostic testing much more widely available.dairy cattle.
The recent journal paper presents results from validation studies. These showed that QTest cards spotted with milk samples known to be contaminated with Coxiella burnetii were stable at temperatures up to 37°C for 29 days – so, when subsequently analysed using the PCR test, they showed positive results. They also demonstrated that in PCR tests conducted using milk samples stored for up to 14 days, detection was higher for the QTest cards than for raw milk. These results are important because they confirm that QTest cards can be posted to the central lab, even from hot countries.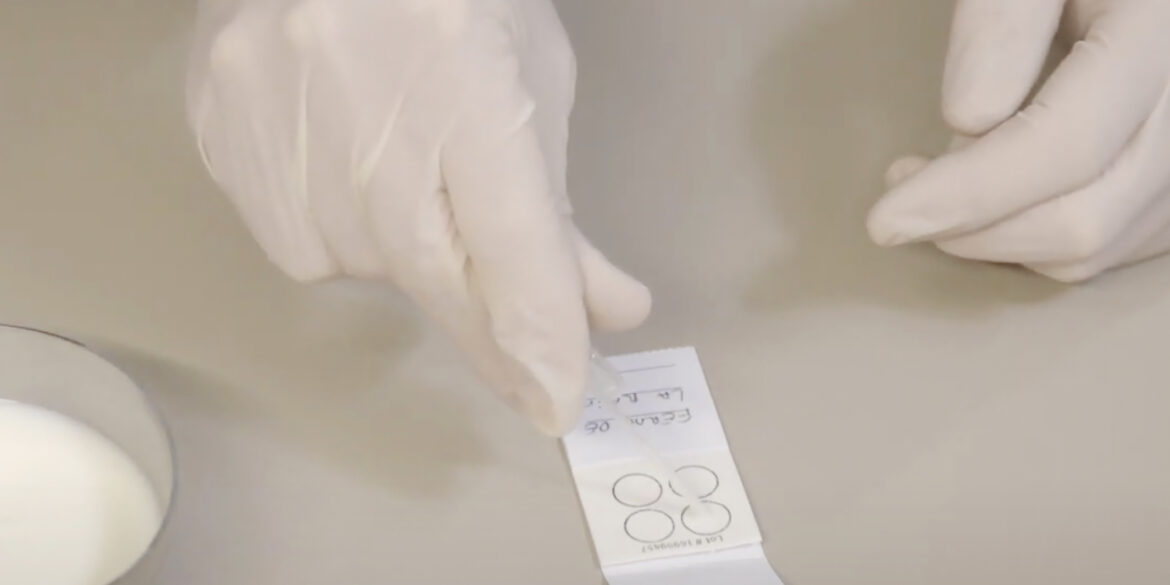 In their paper the authors conclude:
To our knowledge, FTA cards have never been used for C. burnetii DNA detection from [bulk tank milk]. This tool offers a breakthrough innovation to farmers and veterinarians, increasing awareness of the disease and leading to better management of the disease in herds as well as better zoonotic risk management.
---
[1]https://www.jdscommun.org/article/S2666-9102(21)00155-1/fulltext