Gracefully growing old together: the Covid-crisis has highlighted the need for the elderly to be with their pets.
The ongoing Covid-19 pandemic has impacted on the lives, health and wellbeing of billions of people all over the world but the elderly have been particularly hard hit. Care homes for the elderly have had to close their doors to visitors, leaving their residents isolated from their families and friends on the outside. For those living with dementia this must have been especially confusing.
Even before the pandemic, many elderly people found the process of moving into a care home a very emotionally-charged and traumatic experience. In addition to giving up their homes, filled with a lifetime of memories, many also had to face the prospect of giving up their cherished dogs and cats.
While some lucky pets could be passed on to younger family members, in many cases these animals ended up in local animal shelters. Many of these pets are themselves in their twilight years and have chronic age-related conditions. At best, they often face long waits for new owners, most of whom wanted younger, healthier and more energetic pets to complete their families. Inevitably, some of the former pets of the elderly end up being euthanised.
Each year, 10,000 seniors reluctantly separate from their animals to enter a retirement home.
A fortunate minority of elderly people entering care homes are able to take their pets with them. The benefits to mental and physical health and general wellbeing of pet ownership is increasingly recognised. While some care homes allow new residents to bring their animals with them, there tends to be conditions: the pets need to be small and well behaved and the owners need to be able to care for their animals themselves. Most care homes, however, do not allow pets citing concerns about hygiene, inconvenience to other residents and additional costs that they may incur.
Concerned by this situation, two years ago a new charity, TERPTA, was established in France with the aim of developing and testing a totally new approach.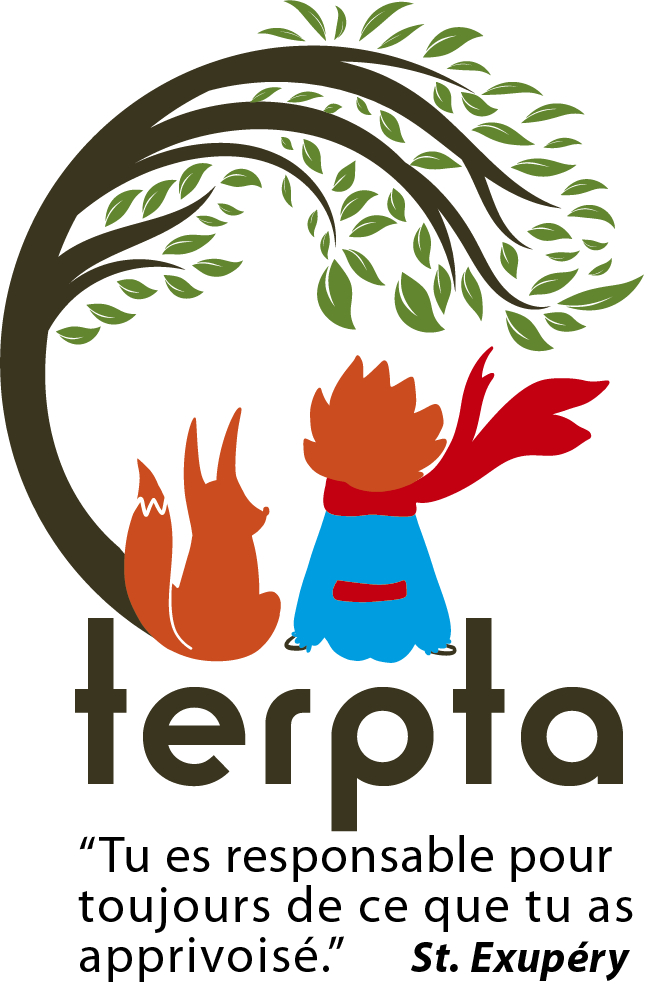 TERPTA is an acronym derived from a quote taken from the novella Le Petit Prince [The Little Prince] written by the renowned French writer Antoine de Saint-Exupéry: "Tu es responsable pour toujours de ce que tu as apprivoisé" [You are responsible, forever, for what you have tamed].
TERPTA has developed and is now piloting a novel solution. The organisation enters an agreement with a care home. The care home provides space in their grounds. On this site TERPTA erect a purpose-built chalet-style building in which the dogs and cats of the care home residents are housed. The chalet is equipped with all the facilities needed to keep the pets happy and healthy and during the day it is run by volunteers, especially those taking part in the National Civic Service. This is all provided at no cost to the care home or pet owners.
The National Civic Service, which was established in 2019, is currently being piloted by 2,000 volunteers. Eventually it is planned to expand the program to include 800,000 French 15 to 16-year-olds each year. After a 2-week training period, they spend 2 weeks working on a local project
The initial TERPTA pilot is being run at one care home and involves nine cats and dogs. Their owners and other residents are free to visit the animals on a daily basis where they benefit from interaction not only with their pets but also with other people. To build on this pilot and expand the scheme to other care homes, TERPTA is currently fundraising.
To give up under duress is to slowly kill not only the animal but also the reason for living of its elderly owner. With the TERPTA system, it is finally enabling them to age together in complete serenity.

Fabienne Houlbert
Founder of TERPTA
As part of its response to the Covid-19 crisis, Ceva decided to support this initiative, which fits well with the company's commitment to promoting the human-animal bond.
It is essential for their health, both mental and physical, that our elders can keep their pet when they enter a nursing home. It is for this reason that we support this initiative at a time when containment has made us particularly aware of the isolation that older people face.

Marc Prikazsky
CEO of Ceva Animal Health
So, as a first step, in May 2020, Ceva teamed up with the Bordeaux-Bègles Top 14 rugby team, for whom Ceva has been a long-term sponsor. Several UBB players appeared in a short video with their own cats and dogs together with photos of elderly people and their pets and some brief information about the TERPTA initiative. Over a period of several days, for every 'like' the Instagram video received Ceva donated €1 to the charity.
While Ceva's partnership with TERPTA is a new one, the company has partnered with the UK charity Dogs for Good for several years. So far, Ceva has taken a particular interest in Dogs for Good's work with families with autistic children. Families who receive either fully-trained assistance dogs or who receive training and support in relation to their family pets have benefited enormously, especially from the calming influence of a dog.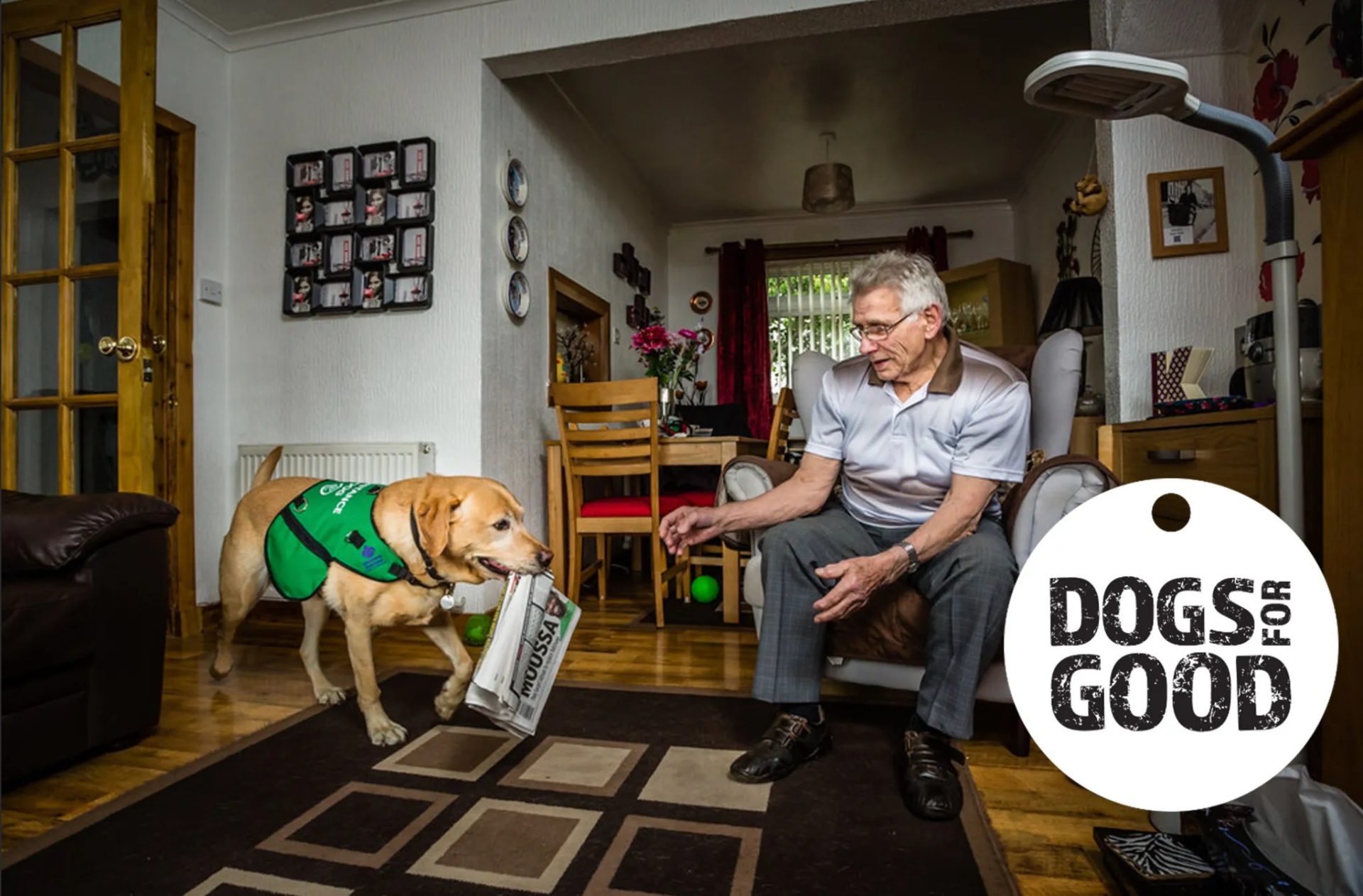 But Dogs for Good also has a program which targets older people living with dementia. Initiatives include placing fully-trained assistance dogs with elderly couples, one of whom has early-stage dementia, as well as activities that use 'community dogs'. The latter are highly trained dogs that work in a range of community settings. Together with their handlers these dogs undertake a range of specific dog-assisted interventions, such as visiting people living with dementia in their homes to encourage their creativity or sharing of memories, motivating them to get out to exercise and engage in day-to-day activities or bring people together to take part in 'Dog Days' events. Dog Days are regular social events open to people with all stages of dementia which enable those who attend to interact with the dogs and also the other people present around a series of themed dog activities. Interactions with dogs have been shown to bring a number of benefits to people living with dementia including stimulating conversation, connection and reminiscing, interrupting negative thought patterns, engaging in purposeful activity and reducing anxiety, and simply bringing joy.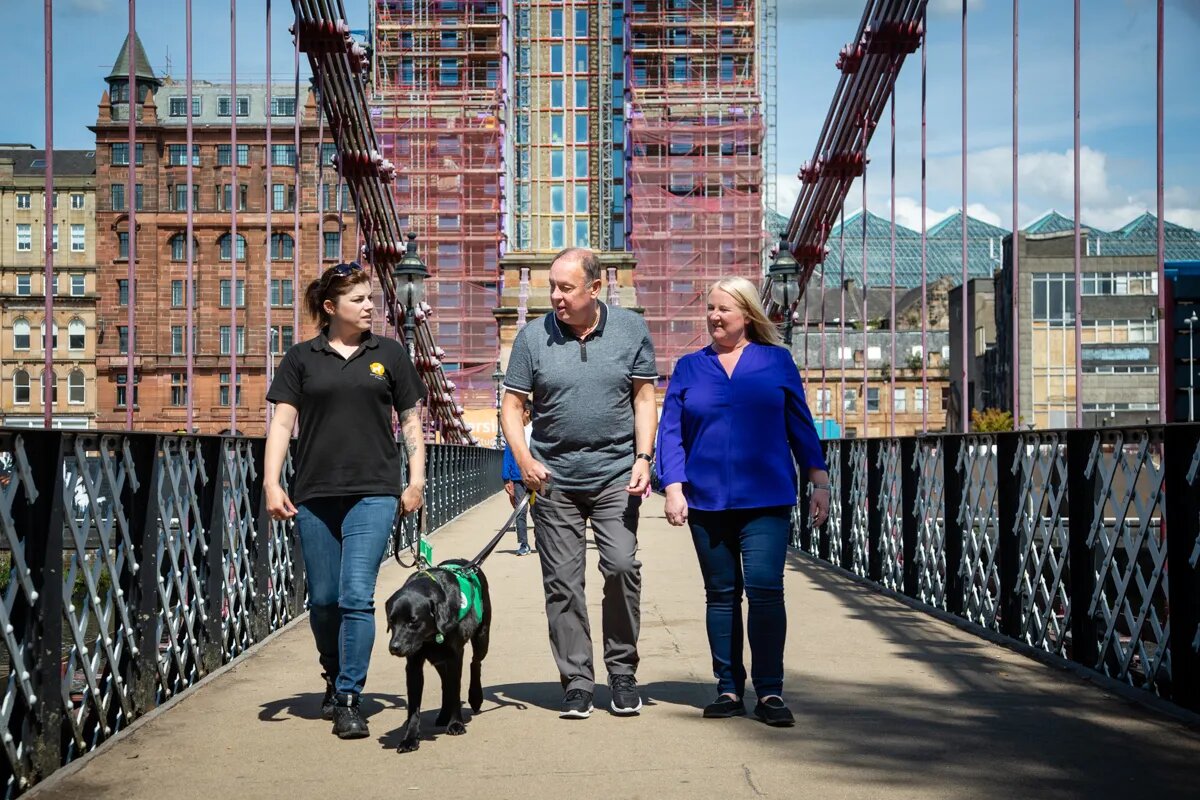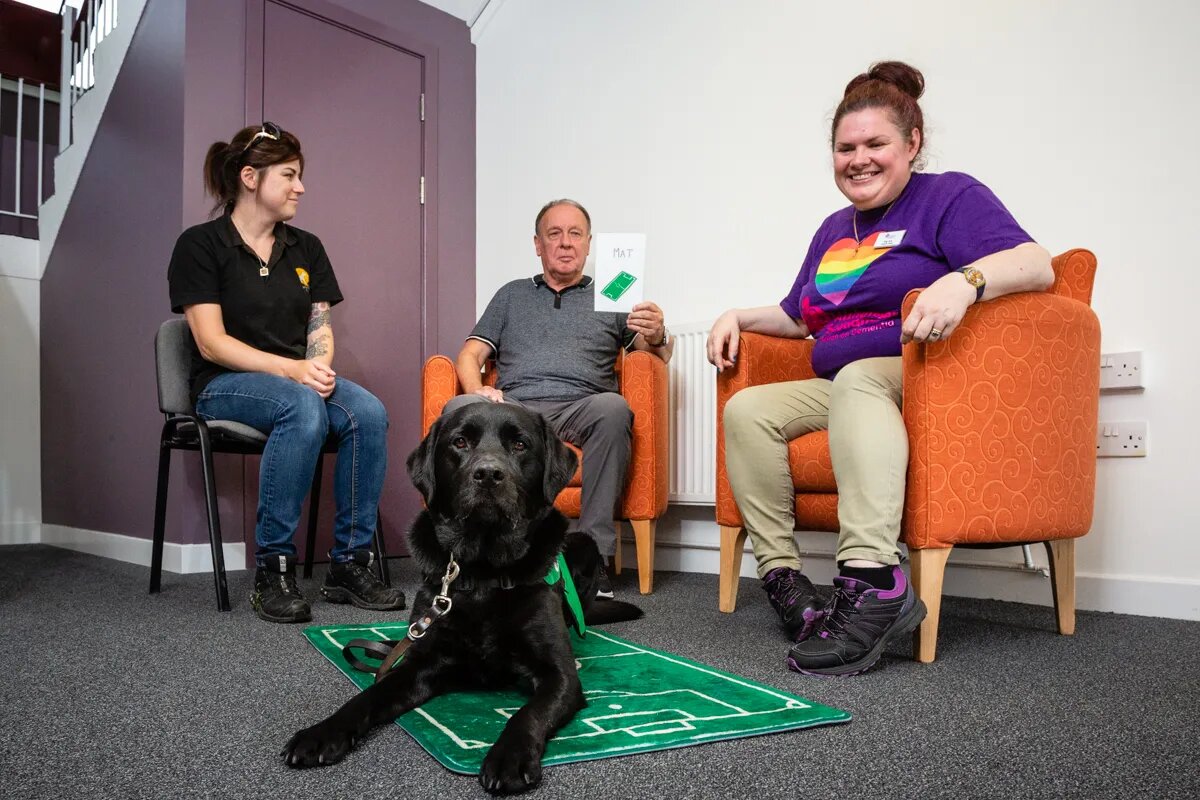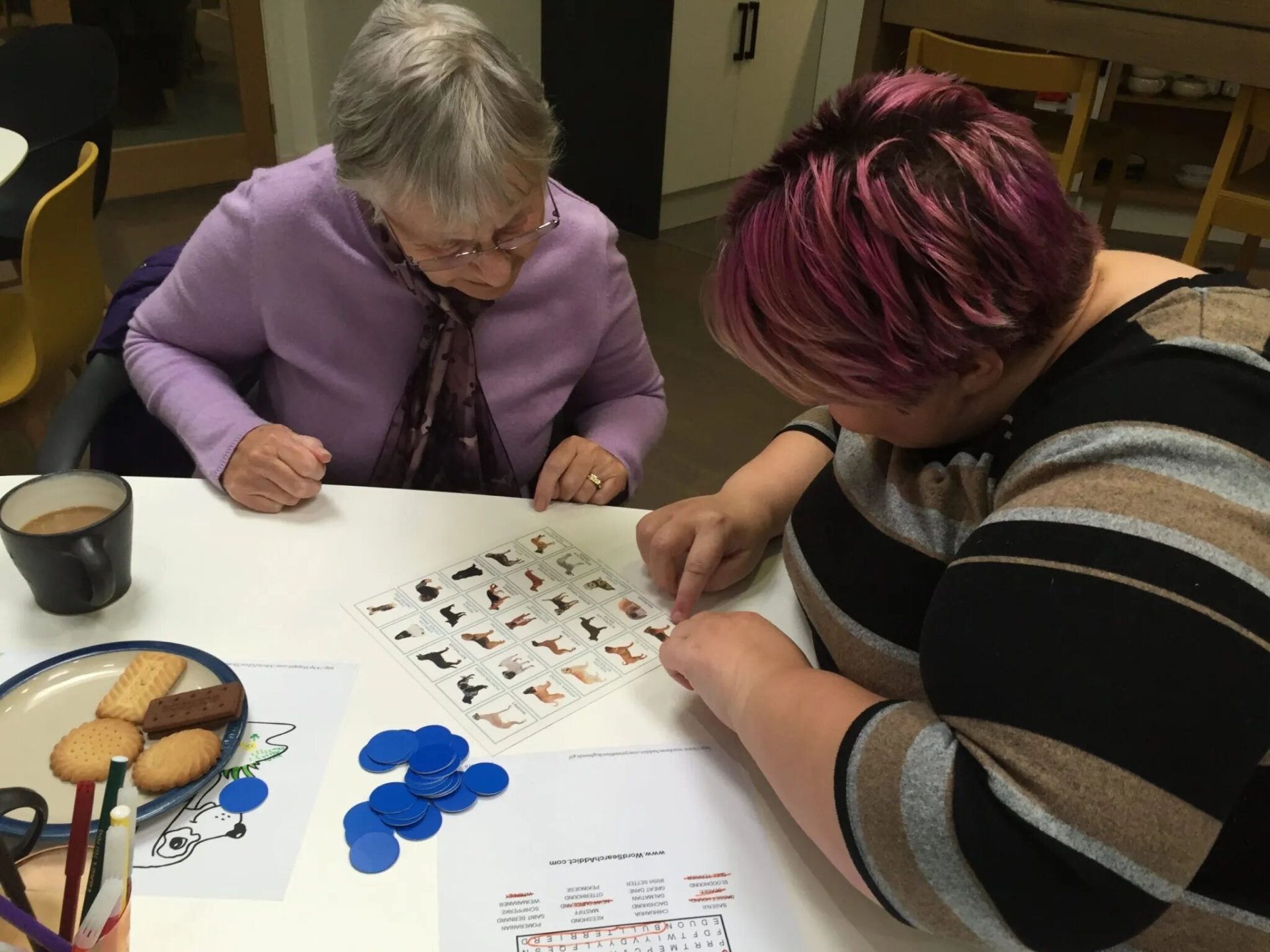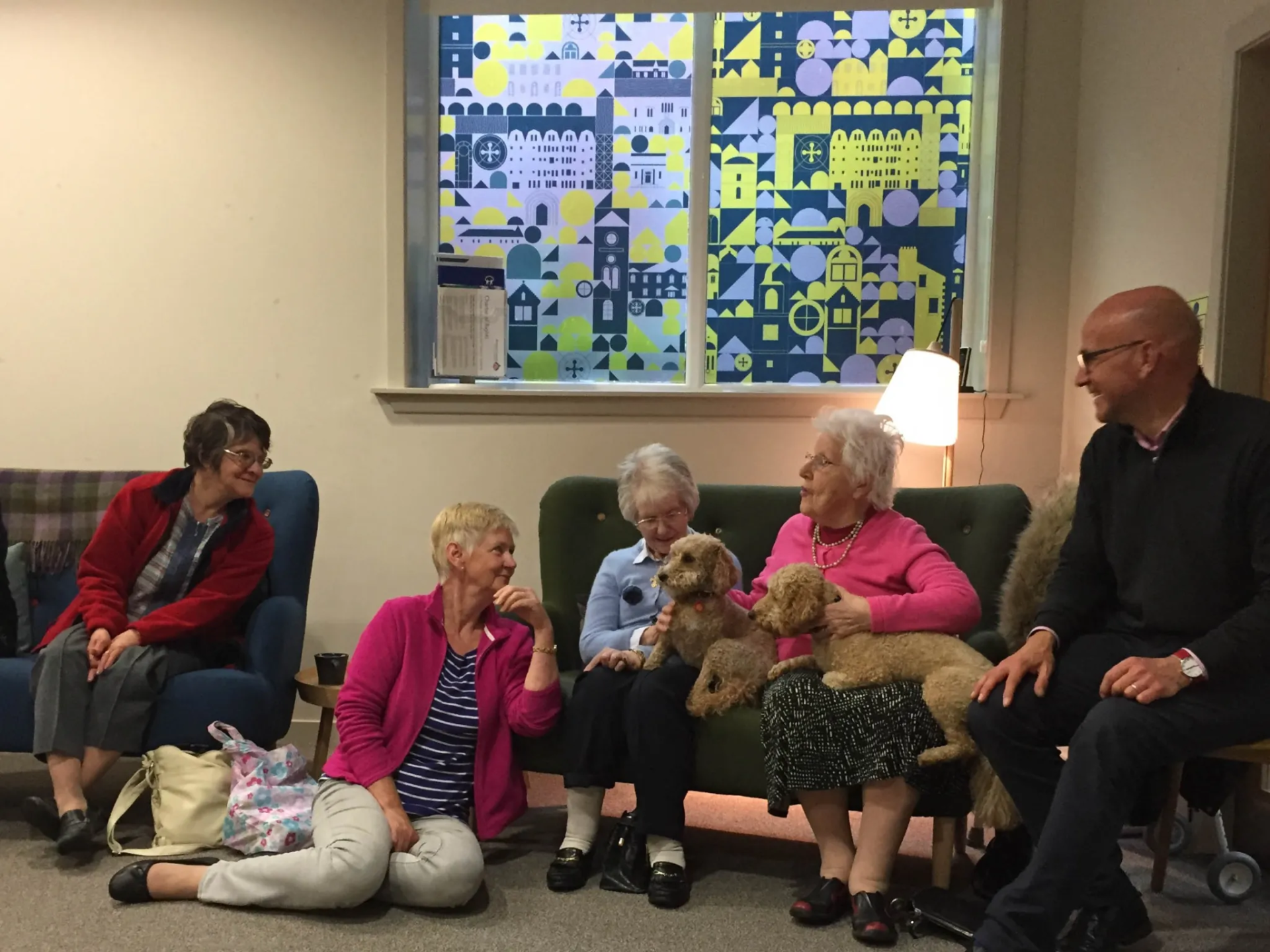 But as Peter Gorbing, CEO of Dogs for Good explains, Covid has severely impacted on the work they can do and forced the organisation to think outside the box.
We have been doing some very interesting virtual work which will open up new opportunities for us to reach more people in the future. This has been particularly strong on the dementia side of our work where we are running regular virtual bingo sessions as well as virtual dog walks. These activities have been incredibly well received and have been a valuable way of keeping people engaged with their community during this difficult time

Peter Gorbing
CEO of Dogs for Good
So, whereas pre-lockdown, the community dogs and their handlers could engage with clients face-to-face, for now these sessions have gone online. For the virtual dog walks, the person with dementia and their carer go for a walk in their local area at the same time as the handler and community dog go for a walk in their local area – the two are brought together by an app that provides a secure video link. This enables two-way communication, and the sharing of sights and sounds encountered. The person living with dementia can interact with the dog by giving commands, such as sitting at the kerb. This means the experience is not a passive one – the client is truly involved with the dog and shares responsibility for the dog during the walk.
The virtual dog bingo sessions are group video sessions in which the community dog draws the numbers by selecting numbered balls from a basket. This brings out the participants' competitive spirit and stimulates much laughter and friendly banter between groups members.
These activities are designed to be super-fun and to restore some routine back into peoples' lives, therefore helping them with motivation to exercise and just bringing them the joy that dogs bring.

Carla Mounsey
Community Dog Handler

Antoine de Saint-Exupéry, from whose writing the TERPTA name is derived, produced many famous quotes, another one being: "a goal without a plan is just a wish". Moving forwards, Ceva will continue to work with pioneering organisations such as TERPTA and Dogs for Good, to develop concrete plans to help ensure that the elderly, as well as younger members of society, can enjoy the multiple benefits that interacting with dogs can bring in terms of improved mental and physical health and wellbeing and sheer enjoyment.
---
Get to know more about the role of the Assistance Dogs on the Ceva Sounds Podcast
On this episode: The bond between animal and human, is strongly illustrated between assistance animals and the people they help. As a company with a mission we strongly support these programs on various continents. Together, beyond animal health.